Sliding windows / Elegant combination of interior and exterior space
Sliding windows are an ideal combination of interior and exterior space. With their surface, they allow for spaciousness, even in bad weather conditions during the winter months, making nature and the garden an integral part of everyday life. During nice weather, the windows can be opened easily and simply with a sliding system – including window elements that extend to the ceiling, which are very easy to open thanks to Deceuninck sliding technology.
Advantages of Deceuninck sliding windows
Possible window elements extending to the ceiling
Maximum impermeability for weather protection and safety
High degree of thermal protection
Three types of openings are available
It goes well with more than 40 colors inside and out
Types of sliding window openings
Deceunink sliding window mechanisms are available in different types of openings. Each sliding system offers special advantages, and depending on individual requirements and needs, Deceuninck offers three variants of sliding window systems.
Sliding window with lift - sliding door technology
Sliding windows with as many as four sash elements have the ability to move easily and thus allow a beautiful panoramic view. Excellent thermal insulation values increase energy efficiency, and motorized versions of the remote control make it easy to operate sliding windows. You will find more detailed information on our product page Sliding and slidingdoors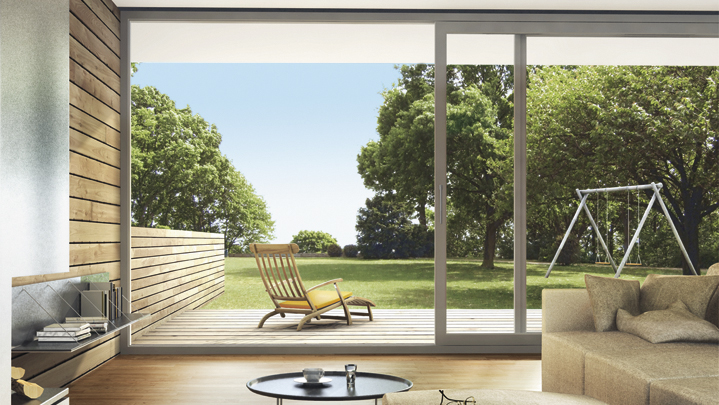 Sliding window in door variant with built-in lifting and sliding mechanism.
Sliding window with storage - sliding system
Sliding windows with a storage-sliding system are available with two to four elements. This sliding window system is ideal for smaller installations and partitions with Deceuninck standard profiles. It is characterized by excellent waterproofing, excellent thermal and sound insulation and ease of use. The level of anti-burglary protection can be upgraded at any time. At each opening, the sash in the plane of the window can be tilted individually. Storage and sliding devices can be realized with our Eforte, Prestige, Arcadeand NL 71 Holland systems.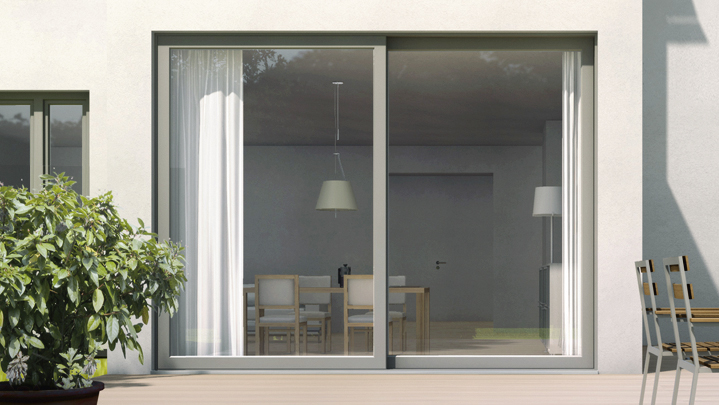 Sliding window with storage-sliding system
Sliding window with folding - sliding system
This system of sliding windows can be fully open, without fixed sash windows or brackets that obstruct the view and exit to the outside. The individual elements of the door overlap in the form of an accordion and push to the side, and special locking plates allow the opening of individual wings and folding-sliding doors that are fastened at each partial opening. Folding-sliding devices can be realized with our Prestige, Arcade and NL 71 Netherlands system.
More information about our sliding windows can be found here: Download PDF brochure.
Sliding windows raise the value of your property, especially during renovations. href=""""/tipps-fenstertausch-fenstersanierung""""> With our online windows and color and window configurator, you can try out which sliding windows best suit your home. Just load the image, adjust the size and color and you can already see how the new window or facade fits your living space.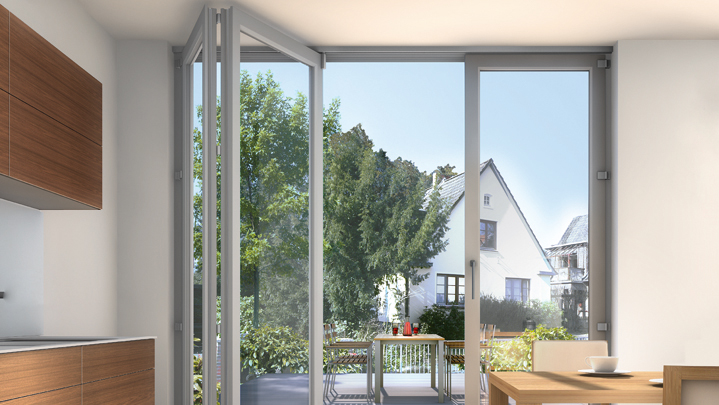 Sliding windows as folding-sliding doors